Thermoforming in a nutshell

Thermoforming uses heat, vacuum and pressure to form plastic sheet material into a shape that is determined by a mould. Sheet stock is heated to a temperature at which the plastic softens but that is below its melting point. Using vacuum or pressure, the plastic is then stretched to cover and duplicate the contours of a mould. Next the plastic is cooled so it retains its shape. Finally, it is removed from the mould and trimmed as required to create a finished part.
Being a diversified custom plastics processor, we specialize in the design, fabrication and finishing of thermoformed products. Our thermoforming process includes the use of several types of plastics; high impact polystyrene, high and low density polyethylenes, ABS, co-extruded ABS and HIPS, to name a few.

Our capabilities range from prototypes and low volume runs to unlimited large volume runs, up to 32 inch x 32 inch with a 9 inch draw.
Straight Vacuum Forming
A. Heat plastic sheet is placed in the mould with vacuum applied.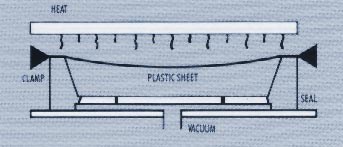 B. Plastic is drawn into the mould where it is left to cool.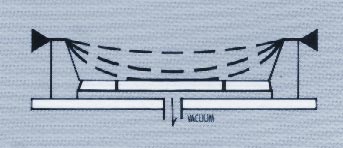 C. Finished mould